PRESCHOOL VERSION OF LIFE ON THE FARM® BOARD GAME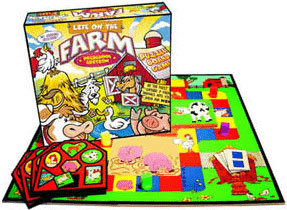 Preschool Version of Life on the Farm® – $20
Preschoolers love this combination board game and farm puzzle set. Draw a card and match colors to move – it's FUN to take turns! Land on an animal square and get a matching a puzzle piece to put in your barn - Fill the barn with farm animals and you win! This is a lot of FUN for the family to play with your favorite preschoolers! Award-winning – Ages 3-7, 2-4 players.

Click here to ORDER YOURS TODAY!