ORDER LIFE ON THE FARM® BOARD GAME


Life on the Farm® board game by We R Fun Games, Inc

Questions? Call Ev Johnson at 320-630-1571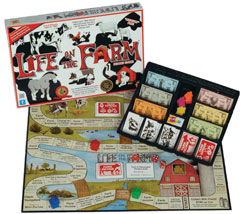 Life on the Farm® – $25
If you can't live it – might as well play it! The whole family will agree this game is FUN to play – it uses subtle humor, hilarious mishaps and real life experiences from a real American family farm. You get to run your own small business, without spending more than you make! – Buy more cows to get a bigger "Milk-check" - but beware, more cows mean higher expenses! Easy to play and understand as income and expenses fluctuate with each roll of the dice. Fast "Moo"-ving and "Udder"ly unpredictable – be the first to "Retire" to win! Multi Award-winning including GAME OF THE YEAR – Ages 8-108. FUN to play with 2 to 6 players. Small family farms feed the world – explore this FUN way of life today!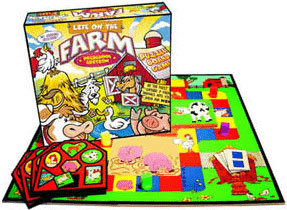 Preschool Version of Life on the Farm® – $25
Preschoolers love this combination board game and farm puzzle set. Draw a card and match colors to move – it's FUN to take turns! Land on an animal square and get a matching a puzzle piece to put in your barn - Fill the barn with farm animals and you win! This is a lot of FUN for the family to play with your favorite preschoolers! Award-winning – Ages 3-7, 2-4 players.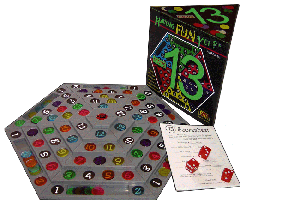 -13 (Minus 13) Math Game in Triangle Box – $20
Collect as many chips as you can, but you won't know how much they are worth until the last roll! Don't get caught with the -13 chip at the end of the game! -13 is a FUN, slightly strategic family game. Great to play with adults and children 8 and up.
If you would rather pay by check using US mail, call 320-630-1571