MEET THE INVENTORS OF LIFE ON THE FARM®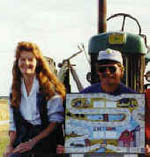 Tired of 'City Life'? Try Life on the Farm®

New board game offers city dwellers stress-relief and down-home fun

In Cushing, MN

Keith Gohl, a midwest 3rd-generation dairy farmer, came up with the idea of "Life on the Farm" after a fun evening of trying to explain the ups and downs of farm life to his city cousins.

This board game combines fast "moo"ving action and real family farm mishaps for an "udder"ly unpredictable fun time.

"It's easy to understand and play." Gohl says, "You don't spend a lot of time reading directions, and grandparents through children can enjoy it together." The age range is 8-108.

Buying cows brings in larger "Milk-checks", but also higher expenses. Players can be hit by hard times on the farm and then turn to prosperity their very next turn.

The board game was awarded a Teacher's Choice Award, as well as a 3 out of 3 star Education Clearinghouse review. It enhances critical thinking and money/math skills naturally, while players are busy racing against each other, trying to buy enough cows to "Retire" first and win the game.

"My favorite comment was e-mailed to our website." said Gohl's sister, Ev Johnson, who designed the game, "It says…'My twenty-one year old and his friends are playing it instead of poker -- they have a riot taking cows from each other!'… You know, that is the special appeal about board games, you are able to share some good times together in a non-confrontational way. Board games are a type of 'classic toy' that is becoming popular again, as families are getting back to traditional comfort toys this season."

College students from Cornell University agree – they had so much fun with it that they used Life on the Farm® as a fundraiser for their school.

So, do you ever get tired of 'city-life'? Well, just head on over to your game closet to experience Life on the Farm®

Life on the Farm® can now be found in various specialty stores nationwide .

If you can't find it in a store near you, you can order online or call us 320-630-1571 and we'll send one to you right away!



Ev Johnson is available for interviews - Call 320-594-6314