DISTRIBUTOR INFO


THIS PAGE IS FOR STORE OR DISTRIBUTOR INQUIRIES ONLY PLEASE!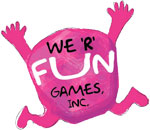 To carry We R FUN games in your place of business, download the Distributor Request Form below!
Distributor Request Form
(6 game minimum order per item) FOB Cushing, MN 56443
High resolution artwork available upon request
Click here to download the Distributor Request form pdf
Please complete the form, save it, and submit it to us one of three ways:
Email it to:
evjohnson@werfun.com
Fax it to:
(320) 594-7003
Mail it to:
New Account Information
We R Fun, Inc. Attn: Ev Johnson
35696 Moraine Dr.
Cushing, MN 56443
Questions?
Call Ev Johnson 320-630-1571
You will be sent pricing information by mail immediately. Thank You!

We R FUN - Because people just love FUN games!